We are making a prototype and manufacturing electronic parts such as contactless IC card, antenna substrate for tag centering on electronics relation by making excellent use of our own printing and etching techniques with graphite materials and various conductive paint in order to meet all kinds of customer's needs.
Product details
Antenna for IC card
Film antenna in a roll of width of max.500mm is provided with our high-definition etching technique and screen printing. Both copper and aluminum foil is available.
Condenser of back side with our own through hole technique with silver paste is available.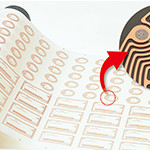 Copper etching antenna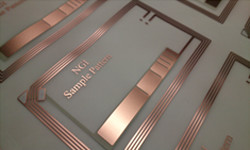 Low resistance antenna wiring with electrolytic copper foil.
Many experiences of UHF frequency for long-range communication due to stabilize with low resistance.
It is suitable for high-definition antenna pattern because of no heat generation at etching.

Application : All sorts of label(medical, security), banking facilities card
Aluminum etching antenna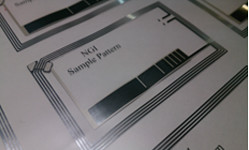 It can be supplied at lower cost than copper type.
Aluminum foil is easily influenced of oxide layer but it keeps better connection reliability than caulking method by using of our own silver paste.

Application : Driver's license, passport
Small tag for NFC antenna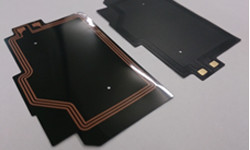 NFC is abbreviation of Near Field Communication and antenna for close-range communication everyone have data communication easily by only waving over a reader. We can do press work or lamination as well as screen printing so customization is available.

Application : Smartphone
Constituent material list
AL foil type
metal foil/base film
PET 38μm
PET 50μm
PET 9μm
A side
AL foil
–
9μm
–
15μm
15μm
–
30μm
30μm
20μm
A/B side
jumper circuit
TH type B side Ag
TH type B side Ag
A side Basecoat/Ag
B side
carrior tape
–
–
PET 50μm
Cu foil type
metal foil/base film
PET 38μm
PET 50μm
PET 12μm
A side
Cu foil
18μm
18μm
18μm
35μm
35μm
–
A/B side
jumper circuit
TH type B side Ag
TH type B side Ag
A side Basecoat/Ag
B side
carrier tape
–
–
PET 50μm
Screen printing substrate ・ Processing
We can meet various customer's needs by using of our own dispersion techniques and high-definition printing techniques. And also we can meet customer's needs with all-around processing techniques like fine etching of metal foil, plate processing, cutting or punching process.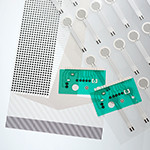 Capacitance sensor key sheet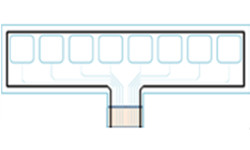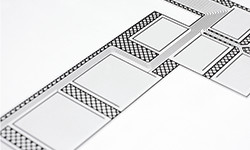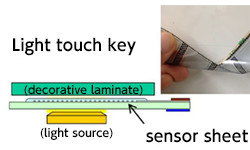 From push to touch. Detection of capacitance change by person's touching.
Full-flat excellent design is available. Whelming reliability without breakdown or trouble in comparison with automatic intermittent switch.
We can provide various capacitance touch sensor based on screen printing technique from years of experience with various conductive paint as well as PE-DOT. Besides we can provide the products bundled with control IC to drive sensor.
We can meet wide range of customer's needs from transparent touch sensor with PE-DOT to competitive one with our own graphite paint.
Screen printing substrate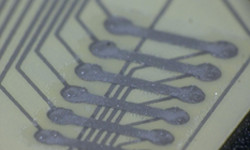 Our through hole is the technique for connecting two sides wiring by printing conductive paint (silver, graphite) on both sides with screen printing method and pouring paint into through hole after making a hole in base material.
Aluminum foil is commonly affected by oxide layer but it keeps reliability of connection more than caulking method by use of our own silver paint.
PET wiring board printed by conductive paint on thin polyester film is very thinner than PCB board, suitable to lighter and compact module and more reasonable material than FPC.
Punching ・ slit of various film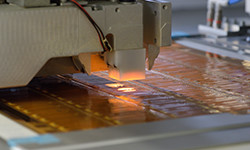 We can provide diverse and high-precision punching press appropriate to customer's needs by selecting of combination with our various press machines and adequate dies, blades.

Please do not hesitate to consult us for many requests such as various thickness, punching, half cutting, sheet or roll.